Wright Specialty Insurance provides property and casualty insurance programs and risk management solutions that meet the specialized needs of public and private universities, colleges and K-12 schools; government entities; and the food service industry. Our specialty insurance programs are effective because our underwriters, claim adjusters, loss prevention specialists, and brokers and agents understand the unique property and casualty risks you face…in your changing and challenging world. We know how important safety is in education today. We know how to help public entities manage risk in difficult economic times. And we understand the competitive pressures taking place in the Food Service industry. Explore our site to learn more about how a Wright Specialty Insurance Program can help you more effectively control your insurance costs.
Education Insurance Program
A comprehensive suite of property and casualty insurance coverages and services for K-12 private independent schools, public schools (outside of New York State), charter schools and accredited colleges and universities
Grocery Insurance Program
Our experienced professionals at Wright Specialty have been managing food service insurance programs since 1995…the Wright way.
Municipal Insurance Program
Our comprehensive Municipal Insurance Program with coverage from carriers rated A+ (Superior) by A. M. Best helps brokers and agents deliver no-gap, competitively priced coverage, and services more efficiently and helps public entities manage the unique risks they face more cost-effectively.
Restaurant Insurance Program
Wright's Restaurant Insurance Program is backed by a team of specialists with nearly two decades of experience serving the insurance needs of the restaurant industry.
Risk Management Resource Center
WSI Marketplace for All of Your Risk Management Safety Needs
RISK ALERT
Timely information on a significant current topic affecting our insureds currently or imminently
WEBINARS
Informative Risk Management training sessions on pertinent educational risk topics
Title IX Resource Center
Stay informed on the changing developments in Title IX compliance
AT ISSUE
Catch up on our Risk Management Newsletter for Colleges and Universities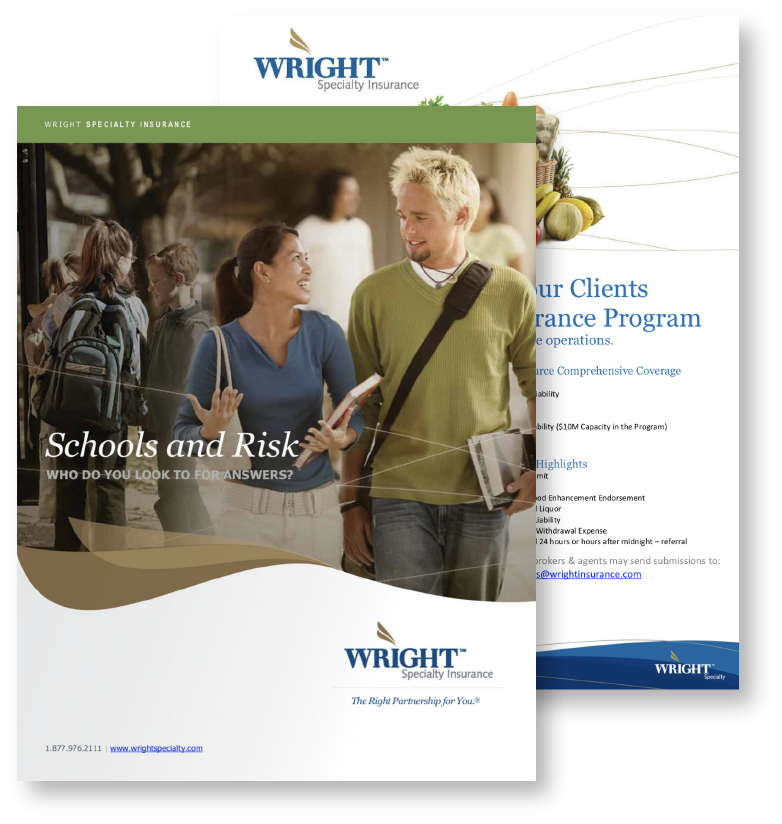 All the tools you need
Distribution Partners' Resource Center
Forms
Applications
Questionnaires
Marketing Materials